Designers:
José Antonio Luengo: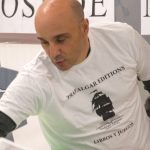 Designer of Waterloo 1815, which represents the end of Napoleon.
Of Norway ' 40, the next great operation of the second world war for the control of Norway by German part.
Compulsive gambler, excellent Designer, trainer of players and multiplayer games, as well as excellent person, has been designing since the remote times when he started in this hobby. Finally in the year 2013 is proposed to collaborate with me in this project designing wargames or games of war fun and exciting.

Crisanto Lorente: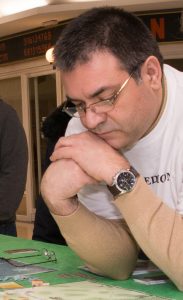 Designer of ships of line, about the battle of Trafalgar and Finisterre in the year 2005.
Also of twelve pounds: Bailén-1808, the first defeat of Napoleon and the war home hardest that you led him to lose the Empire, in the year 2006;
Online: Almansa-1707, battle more important in the war of Spanish succession, in 2008.
All of them in the year 2005-2008 for another Publisher. Now working on the following projects:
Poland-39 of the German ivasion of Poland, initiating World War II.
City of Patriots: Madrid 1808, that represents the day of rebellion of the Madrid the two of Mayo in Madrid, in response to the invasion Napoleonic of his homeland.
Also player compulsive, willing to play any game and seeing that it is impossible to do it live with his friends, decides to create a club on the Internet in the year 2000 (the famous pages of yahoo geocities) CET: Club strategy and tactics, being your Community Manager to date. There comes a time that decides that it wants to design their own games and collaborates with Delta editions designing the three games mentioned above. In keeping with this desire, and discussing some of his friends CET, Jose Antonio bundled in the project and founded Trafalgar Editions.
History of the project:
I started this in my childhood playing games NAC, however in 1981 playing the campaign in Russia of Avalon Hill I discovered the true dimension of this love of history and war games. Since then I have not stopped until founding Trafalgar Editions.
Due to my long experience as an amateur war games (wargames) have met people amateur of great talent in game design, which is one of the things that we most like to do, besides enjoying intensely to play them.
Personally moved me a huge interest in the history so I think that both worlds can bring together up to now separate: books and games, all in one.
I hope it is to your liking.
Would you like to design with us?:
Contact: designers